This blog post is a part of our ongoing guest series, Seniors Stories. We asked high school seniors who recently went through the college application process to share their experiences and achievements that earned them admittance at the top colleges in the U.S.. Here, Shania shares her experiences writing her college essay for Common App.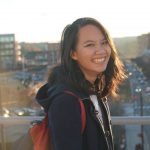 Shania (Wen Nin) Khoo is a senior from North Carolina and has been accepted to Stanford University, Duke University, University of California – Berkeley, University of North Carolina at Chapel Hill, Tufts University, University of California – Los Angeles, Barnard College, and University of California – San Diego. Shania will be attending Duke University as a Benjamin N. Duke Scholar and majoring in Public Policy and Statistical Science in the fall. 
For this post, we asked Shania the most frequently asked questions we see from students about how to write college essays. Shania graciously shared her experiences and insights as well as her drafts and the final version of her Common App college essay.
What were you expectations for college essays before you started?
Everyone – my parents, peers, counselors, teachers – always emphasized the importance of the Common Application college essay. It felt so daunting, to summarize the last 18 years of my life into 650 words, all while showcasing my "unique" personality against thousands of other students. Before the whole process even began, I already felt pressured to craft this beautifully written ssay that screamed, "This is who I am!" Reading the colleges essays of students who went viral, such as Cassandra Hsiao's essay about being a Malaysian immigrant and Brittany Stinson's essay about her routine trips to Costco, made me feel like I wasn't a good enough writer to either write poignantly about my identity or make mundane observations meaningful. While I was aware that I would be writing countless essays over the next couple months (because I was applying to more than a dozen schools, each with their own supplemental essays, and not to mention essay scholarships), the Common App college essay felt the most daunting. I felt intimidated, to say the least, especially since I knew that I had to knock it out of the park with my essays if I even dreamed of being admitted to the selective schools on my list. I was terrified of clichés and blending in with thousands of other applicants, and I struggled to look away from "successful" essays, wondering if I could do what they did.
When did you start the brainstorming and writing process for your college application essays?
I started brainstorming as early as June before my senior year, but I didn't actually start writing my first draft until mid-August. I finished right before my first deadline on October 15, and hardly touched my Common App essay afterwards. While I met my deadlines, I remember desperately wishing during late-September and early-October that I had finished at least the first draft of my Common App essay before school started. I wish I had kept in mind that college applications were not my only priority during senior year and planned more proactively accordingly so I that wouldn't get stressed out.
What did the ideation process look like for your Common App college essay?  
I genuinely had to force myself to start. There were numerous times when I opened up a Google doc and stared at a blank screen, only to inevitably get distracted by Facebook and not get anything accomplished. Due to the 650-word limit, I knew I won't be able to convey my entire personality or all my passions in this one essay, so I started with the question "what is one thing/idea/experience that I wouldn't mind representing me as a whole?" I asked myself questions like "Who am I?", "Why is unique about me?", and "What matters to me?" From there, I started cultivating this list of essay topics, character traits, experiences, and even some random sentences that I ended up using in my final essay.
The idea I settled on was my Asian-American identity, but how I wrote about this broad idea really evolved through my drafts. I chose to write about it because it was so integral to my identity through my extracurriculars and my experiences growing up as an Asian immigrant in the American South.
Other topics that I ultimately rejected for my Common App essay actually went to be the focal point of other essays. For instance, an essay idea I had about the emotionally distant relationship between my mother and I through the lens of my violin performance and an essay idea about how I saw America as a cafeteria tray were both fleshed out to become supplemental essays.
Were you ever concerned or hesitant about writing a college essay on something super personal?
While I know some students struggle with getting personal in their essays, I was never really worried. After reading so many "successful" college essays, what I noticed was that all these students had one thing in common: They were all really authentic and personal, bearing their souls for their applications. I thought, if all these other students can do it, then so can I. However, I did struggle a lot with having an essay that was about race. In fact, some of the people who read my essay expressed concerns about my essay topic. But because I felt that it was such a crucial part of my identity that has led me to forge many of my passions and allowed me to grow as a person and activist, I told myself that if my topic felt too "controversial" for college admissions, then I wouldn't want to go to that college.
Tell us more about your writing process.
I wrote three distinctly different full drafts for my Common App college essay, all speaking about my Asian-American identity in different ways. Each full draft also had a number of smaller edits.
When I started my college essay process, I set out to answer the prompt "Some students have a background, identity, interest, or talent that is so meaningful they believe their application would be incomplete without it. If this sounds like you, then please share your story."
My first draft focused on my struggle of growing up as an Asian immigrant in the South, including harsh race-based experiences, such as:
I winced as my "friends" pinched their noses when I opened my lunchbox that my mother layered with coconut rice, little anchovies, and sambal. I wrapped it up and chucked it into the trash, hearing the chink as it hit the bottom.
an excited six-year-old entering Kindergarten became self-conscious of how different she was when an intrepid boy welcomed her, saying 'Hi Ching Chong.'
My essay draft focused on race-related challenges I experienced and how it led me to found an organization called the Triangle Area Asian and Pacific Islander Student Union to start important conversations about AAPI issues. However, I felt like I spent too much on background information, and my essay lacked an overarching concrete experience for readers to grasp onto. Most students choose to write their college essay about a singular experience, which is what I ended up doing as well. Of course, this is not to say that this is the only way to write your essay, but it's what I felt best grounded mine.
My second draft relayed an experience I had at a residential summer program called Governor's School. On the first day of one of the classes, we were put into small groups to get to know each other, but we did so blindfolded. The goal was for us to get to know each other without any first impressions based on appearances. When it came time to "try to guess what everyone looks like," it became apparent that nobody thought I was Asian, a word that I had considered to define me for most of my life. I related that experience to my struggles with my Asian-American identity:
Being Asian felt like a curse, and I hated being burdened by the expectations to be smart, the bullying of ignorant children, and constantly being misidentified as Chinese. When the blindfolds took away my Asianness, I was ecstatic to be momentarily lifted of such a burden.
However, I felt that this essay was cliché. It told a story of the struggle between two cultures that many immigrant students experience, and furthermore, it didn't reveal anything about me that felt unique or essential to my personality. I didn't want to be labelled as just another Asian immigrant by college admissions.
With the "background, identity, interest, or talent" prompt, I found it difficult to focus my college essay and figure out how to fit 18 years of experience, struggle, and growth into 650 words. The turning point for me case when a friend who was helping me edit my essay asked me, "Shania, what are you trying to say with this essay? If I gave you 10 seconds to summarize the message of it, what would you tell me?"
I couldn't answer him.
That's when I realized that neither of my initial drafts had any sort of clear message. If he couldn't discern what I was trying to say with my essay after editing it for thirty minutes, then how could college admissions officers who would spend maybe five minutes reading my essay?
At this point, my topic evolved. While I still wanted my essay to be about my Asian-American identity, I wanted to use that identity as a platform to emphasize a defining aspect of my personality. Instead of the original essay prompt, I decided to focus on this one instead:
"Discuss an accomplishment, event, or realization that sparked a period of personal growth and a new understanding of yourself or others."
My third essay draft (which eventually turned into my final college essay) started with the idea "I'm not afraid to speak up. I refuse to stay silent." I brainstormed how I came to have this character trait and intersections of it with my Asian-American identity. I ultimately told the story of slam poetry night at Governor's School, the first time that I really pushed myself out of my comfort zone to speak about a racial issue. My final draft is multifaceted, showing my personal growth in context of the frustration and empowerment rooted in my Asian-American identity. It combined parts of my initial drafts into something completely new.
Who helped proofread your college essays during writing process? And How did you balance your voice and ideas with suggestions from your readers?
When I first began, I had my counselor and history teacher read my draft because I felt very unsure about the intention and content of my essay. However, neither of them have ever seen my final draft. Throughout the process, I also had several close friends read my drafts. However, instead of asking for advice and suggestions, I generally asked people for how they felt about me after reading my college essay (and also to provide grammatical and syntax edits) and used that as guidance to think about if that was the takeaway I wanted admissions officers to walk away with.
Alternatively, some of my friends who were successful in the college admissions process met with their English teachers frequently to review their college essays. This allowed them to constantly have someone to bounce ideas off of and to receive assurance if they were going in the right direction and advice if they weren't.
What advice do you have to rising seniors on writing their Common Application college essay?
There's no "correct" topic. I fell into the trap of reading a bunch of "successful" essays that were published online. Reading them made me feel like I had to have experienced a traumatic event or done something spectacular for admissions officers to notice my essay and application. When I started the whole essay writing process, I honestly felt really stressed out about feeling like I haven't had experiences that were "worthy" of the Common Application essay. But I literally ended up writing about a time I performed a poem. One of my favorite Common Application essays is about a trip to Costco. Honestly, it doesn't matter what you write about, but rather, why you write about it and what you're trying to convey with it.
Your application goes beyond your essay. Yes, the essay is an important part of your application. But remember it is still a part of your application. In addition to my essay giving a good sense of who I am, it is backed by other parts of my Common Application, such as the activities section (in which I touched on Asian-American organization I am a part of), and by other supplemental essays. In brainstorming about what topic to write about for your Common Application essay, look at what you intend to present in the rest of your application and think about overarching traits that can represent you. I attribute a lot of my successes to how my application as a whole, not just the essays, constructs a story about who I am and what I've done.
Shania's final Common App College Essay.
To check out her drafts and writing notes, click here.
Wiggling my toes, I fought to keep my thoughts from spiraling away from me. Signing up to perform slam poetry at Governor's School was not at the top of the list of risky decisions I have made, but it came close. Earthquakes rumbled beneath my feet and wasps buzzed in my stomach as stagefright enveloped me. The eyes of a hundred audience members burned into me, coloring me crimson red. The audience's anticipation surrounded me like smoke, making my eyes water and lodging words in my throat.
As the minutes crawled by, I debated whether I should make a run for it.
Too late. My name was called, cueing me to face my fears and bare my soul.
My poem told my story, beginning with rosy-cheeked five-year-old me landing in America on a snowy night and rubbing my eyes in awe of the whiteness covering the new world. Then, as an excited six-year-old starting school, I became self-conscious of how different I was when an intrepid boy welcomed me, "Ni Hao," his butchered pronunciation tinged with contempt. When I was eleven and received a 100 on a math test, my pride and hard work were stomped on by my classmates exclaiming, "It's because you're Asian!" At thirteen, I was caught between my Peranakan (Malaysian) roots and American upbringing, unable to understand the idea of being both Asian and American. After a decade of living in America, I don't understand why I'm still a foreigner.
Despite immigrating from Singapore twelve years ago, I was scared that I would trip over words and pronunciations. I was afraid of speaking too fast, of crying, of not being able to form a coherent thought. Yet, performing my poem, I did not stutter or falter. I was fueled by the resilience of my parents who studied their way out of Penang to raise me with hopes instead of struggles, and by the restlessness building within me from constantly being expected to live up to the "model minority."
I finished and breathed a sigh of relief. The auditorium filled with a deafening silence. But then, one clap led to another, and another, and soon the entire audience was on their feet as cheers and applause echoed off every corner.
When I sat back down, one boy whispered to me, "I had no idea that, like, Asians had such experiences."
Afterwards, countless Asian-American students, many of whom I had only ever exchanged small smiles with, approached me to say, "I really related" and "I've had the same experiences." It was then that I realized that in my brief moment of bravery, I told a story that many Asian-Americans shared, but few were willing to tell. It was then that I decided to no longer bite my tongue.
To start important and complex conversations to understand the role that Asian-Americans play in America's racial divide as the simultaneous "yellow peril" and "model minority," I founded the Triangle Area Asian and Pacific Islander Student Union. Working with organizations such as the East Coast Asian American Student Union, I led workshops and facilitated discussions on difficult topics such as mental health, racial triangulation, and identity, encouraging others to tell their stories, inspiring them by telling mine. Through Misidentific[Asian], a photo campaign I started to encourage students to share how their identity has affected their lives, and Humans of Green Hope, I interview and learn from people from all walks of life, sharing their stories and lending my voice to those who too often remain ignored.
I refuse to stay silent. I refuse for my identity to be replaced by a caricature of cultural stereotypes because there are two sides to my story: Forks and chopsticks. Ramen and spaghetti. Bruce Lee and Springsteen. Asian and American.
With my chin held high, I no longer feel the wasps within me or the earthquake beneath me, and I tell my story.