This blog post is a part of our ongoing guest series, Seniors Stories. We asked high school seniors who recently went through the college application process to share their experiences and achievements that earned them admittance at the top colleges in the U.S.. Given the positive feedback we received on the last college admission essay piece by Shania, we wanted to bring you another perspective to help you with your essay process.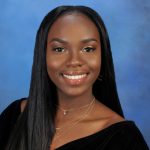 Gabriella Carter is a senior from Florida and has been accepted to Princeton University, Stanford University, Columbia University, Cornell University, Dartmouth University, Duke University, Johns Hopkins University, New York University, Swarthmore University, University of Florida, Howard University, University of Miami, Florida State University, University of Central Florida, University of South Florida,  Florida International University. Gabby will be attending Princeton University in the fall to pursue law or biomedical sciences. 
For this post, we asked Gabby the most frequently asked questions we see from students about how to write college admission essays. Gabby graciously shared her experiences and insights here.
What were you expectations for the college admission essay before you started?
After school let out for my junior year, I was extremely relieved; I was finally free of the stress of IB and simply wanted to relax until school commenced again in August. In preparation for the various writing and oral assignments for the IB program, my teacher, Mrs. McAdams, held summer sessions at our library to begin planning for our assignments.
While discussing topics for our Extended Essays (a mandatory research paper to receive the IB Diploma), we began talking about our life stories as we brainstormed ideas for this big assignment. This led to discussing subjects for our common app essays, and that's when I started thinking about my college admission essay(s) for the first time.
I began preparing and thinking about my college applications pretty late considering I'd waited until the summer before my senior year. I didn't really have any expectations for what the process would be like, and at the time, I didn't even know what I wanted to major in or where I wanted to attend school. I didn't think the college admission essay would be any different from the hundreds of essays I'd written for AP Literature, so I really underestimated the immense amount of thought, stress, and preparation that it required.
When did you start the brainstorming and writing process for your college admission essay?
The summer session took place over the course of a week in mid-June. The more we discussed possible essay topics during the summer session, the more I realized I had absolutely no idea what I wanted to write about or how I wanted to convey my ideas.
During our discussions, I would scribble down notes for common app essay on the corner of scratch papers and in iPhone notes. As soon as I left each session, I would write a sentence or two about the topics that popped in to my brain, but I'd never finish them. The entire process of writing my Common App essay took about two months, although, to be honest, this was partly due to my procrastination and simply dreading the thought of writing such an important essay when all I wanted to do was watch Dexter and White Collar.
What did the ideation process look like for your Common App college essay?  
My college admission essay planning was less of a process and more so a series of indecipherable notes scribbled haphazardly in the margins of English notes and old essays and fragmented sentences with multiple question marks in untitled google doc pages.
I never write my essays in order due to the way I think. I would start with the introduction, then halfway through, I would have a really good idea for the second paragraph. I would start writing the conclusion which might lead to two other strong ideas that could go in the first and third paragraphs, etc.
After a lot of brainstorming and different ideas, I narrowed my topics down to two: my grandfather's experience as a sugar cane worker and how his migrational patterns impacted my own as I moved through three continents, or when my mother prompted me to bleach my skin to be "beautiful," a widespread practice in Jamaican culture.
I wanted to write about the former, but it was extremely hard as the writing was choppy and my heart wasn't in it. Eventually, I shifted gears and wrote about my experience with skin bleaching. Even though I had some hesitations about the topic, I felt very strongly about not letting this experience define me. I found that with this topic, the words flew out almost effortlessly and my emotions were effectively portrayed throughout vivid imagery and strong verbs.
Were you ever concerned or hesitant about writing a college admission essay on something super personal?
I initially shied away from writing about this topic because it's so personal to me and because I've grown to be so proud of my skin color and all that it entails. I felt as though writing about it may invalidate my current confidence as I'd be forced to share one of the most vulnerable and insecure moments of my life. Frankly, it was also difficult to open up about skin bleaching because looking back, it's something that I am ashamed of and work tirelessly to prevent others from doing.
I also had some hesitations about the topic after having a former English teacher (not Mrs. McAdams who ran the summer sessions) read my essay. She was less than supportive, and I felt that she minimalized my experience and judged it from a condescendingly ethnocentric view.
I ultimately chose to write about it after I acknowledged the fact that my past actions don't define me. I also ran my essay and my concerns by a different teacher, and she assured me that this was a great topic to write about because it was personal, heartfelt, and shed light on why I'm so passionate about social justice via my school's first Black Women's Student Union as well as peer aid/mentoring via Mentoring Tomorrow's Leaders and the Broward Youth Coalition.
This experience also reaffirmed my belief that you should be confident in the work that you produce because it's authentic to you.
Tell us more about your writing process.
I avoided writing my college admission essay for the longest time because I didn't want to revisit my former experiences with skin bleaching and the profound impact it had on me.
When I did start writing, I ended up having several drafts of my final essay, probably seven, but they were all very similar. The drafts varied by 6-7 sentences at most, with one essay being more heartfelt and emotional, the other being more detailed, and yet another focusing less on how, when, and why I bleached my skin in favor of how it impacted me as a person and inspired my subsequent community involvement and advocacy. Ultimately, I chose the latter.
I decided to submit the essay that showed skin bleaching's impact on me and how it molded me into a resilient person passionate about improving her community. I didn't want the readers to feel bad for me or to feel as though I had been defeated by this former obstacle in my life. I wanted them to know that it happened, and that I not only overcame it but used it as the driving force for something positive – my subsequent community involvement and my passion for social justice.
That being said, writing this college admission essay was honestly one of the most frustrating parts of my senior year. One day I would be extremely proud and content with my essay. Then, I'd read an essay online from someone who got into Stanford or Princeton, and I'd begin brainstorming again, ready to scrap my essay in an effort to replicate someone else's success (which is a big no no!).
The majority of my writing process was focused on my delivery and conclusion. For a long time, I was just trying to do too much: grab the reader's attention, use big words, paint a dramatic picture, find the perfect balance between vulnerability and resilience. Ultimately, I had to stop focusing on what I thought readers wanted to see and just tell my story.
Who helped proofread your college admission essay during writing process? And how did you balance your voice and ideas with suggestions from your readers?
My English teacher, Mrs. McAdams, was the main person who helped me proofread my college essays. She was the one who reinforced my confidence in my essay as she commented on its originality and praised my delivery, while providing necessary constructive criticism with specific reasoning for her suggestions. She was impartial without being detached from the reality of my essay and race relations, which I truly appreciated.
It did take me awhile to find a balance between my own voice and suggestions from others. I distinctly remember sending (what I thought would be) my final draft to an acquaintance to review. They oversimplified my story and changed a lot of the words, and I started to doubt my essay. Mrs. McAdams reminded me to not let others' ideas tainted MY story and to redefine the line between accepting criticism and succumbing to it. That's when I truly learned to take all advice I received (even from her) with
a grain of salt.
Honestly, my writing process was inadvertently a process of personal growth as I truly learned to stop giving a damn about what other people thought I should be or how I should write and just wrote about what was most natural for me. I asked so many people for advice – some said I bragged too much, others said I needed to brag more, while quite a few said I didn't brag at all and that my essay was boring. When I stopped letting other people's voices overshadow my own, my writing process truly began.
What advice do you have to rising seniors on writing their Common Application college essay?
Start in the summer. If you're anything like me, you don't want to acknowledge the magnitude of this essay and how capable it is of dictating your future. Start in the summer when you have the most free time available, because when you get stuck or have writer's block (which is inevitable, but totally okay), you want to be able to de-stress by going out with friends or taking a nap without feeling guilty because you're under a time crunch.
Leave adequate time to develop your ideas but also to give your trusty confidant(s) who'll guide you during this process the time to truly focus on your essay and you. You don't want to wait until October/November when you and 25 other kids are frantically begging for recommendation letters for colleges/scholarships, studying for tests, disrupting teachers from grading work, and simply putting yourself under unnecessary stress. You want to ensure that you have ample time to sit down with your confidant(s) and discuss why they feel certain things are good or should be modified, and more importantly, to ensure that you maintain good mental health.
Don't be afraid. Somewhere in the Common App/Coalition application are terms and conditions detailing that colleges are subject to standards of confidentiality which explicitly ensure that your work is protected and remains within that institution's decision board. Many people have this absurd idea that other colleges or their parents will find out about their essay from the college after they send in their application, but that isn't the case. So, write freely and passionately; the right school for you is patiently awaiting your application.
After you submit it, forget about it. Don't stress about possible typos or things you could've said to make your essay better. You submitted it in that state for a reason. At the time you pressed that button and accepted the terms and conditions, you were completely confident in your essay and your abilities. Don't lose that confidence in the long months leading up to the day that decisions are released. Everything happens for a reason, so stop second guessing yourself and enjoy your senior year because I promise it flies by.