This blog post is a part of our ongoing guest series, Seniors Stories. We asked high school seniors who recently went through the college application process to share their experiences and achievements that earned them admittance at the top colleges in the U.S..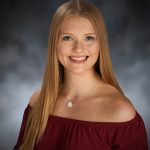 Talie Cloud is a senior from California and has been accepted to Cornell University, Dartmouth University, Duke University, University of North Carolina Chapel Hill (Carolina Scholar & Robertson Scholar Finalist), UC Berkeley (Regents), UCLA (Regents), USC (Presidential Scholar), and UC Davis (Regents). Talie will majoring in neuroscience and Spanish in the fall. 
I come from a small rural farming town. Most people in my town never leave, and after high school, many students go on to community college or trade school. Growing up in this environment, I grew to appreciate that everyone has a different journey, from my friends who are undocumented navigating the path to citizenship to those going through high school with children of their own.
I had a passion for the sciences and a desire to explore. While I recognized that it isn't for everyone, college was my dream and my shot to broaden my horizons. And there were challenges that came with this dream. I often felt alone in my aspirations. Additionally, our local school system is so overburdened trying to get thousands of students to pass the minimum requirements and make it through, so there was limited guidance and support for students looking for more.
From Meat to Medicine
With limited resources at my disposal, I learned how to make the most of the opportunities afforded me and look for non-traditional path to success. Entering high school, I knew my passions for the sciences, but I felt stuck. In my area, there were no opportunities for extracurriculars or internships related to the medical field. However, while we didn't have medical related extracurriculars, we did have a booming agricultural sciences industry. To some, these may seem like completely unrelated fields, but I learned how to find the commonalities that transcend disciplines of thought. This mindset led me to join a meats evaluation team; yes, a meats team where we compete in meat lockers and judge beef, pork, lamb, and nutritional sciences. This opportunity was particularly challenging, considering I don't really eat meat. But, from my many hours pouring through books about meat pathogens and memorizing countless cuts, I recognized the parallels between animal health and human health, and between the physiology of man and the issues with meat. Additionally, from my experience, I gained a unique "party trick" to share in my college interviews.
Fruit Flies and President Obama
Another example of my experience finding unique opportunities to apply my passion for science involves my agricultural research. At the age of 13, I met a peach farmer who explained his struggles; he was struggling to make a living because his crops had been ravaged by a species of fruit fly, Drosophila suzukii. This problem frustrated me; as a society, we could make vast strides in the treatment of many medical ailments, but we were going to let a tiny insect cause billions of dollars in damages to agricultural crops and affect the livelihood of families? I looked for opportunities to get involved and ended up spending a year designing an agricultural insecticide that would drastically inhibit fruit fly reproduction. For months on end, my nights were spent grinding bitter melon seeds into a pulp and feeding them to the thousands of fruit flies I had to sex, count, and observe. I became the biggest purchaser of bitter melon at the local Asian foods market, where the store clerks probably thought I was a madman for buying warty, cucumber like vegetables in bulk every week. And yet, my research propelled me to win the state science fair, and then the National Agriscience Fair. Then, all of a sudden, I got an email from the White House informing me that I was to represent my entire fair at the White House Science Fair! I got to meet President Obama and explain my research to many important congressmen and scientists. I, a small town girl looking to help one farmer, got to speak with the president like an equal! Thinking about it, it still seems unbelievable. What I do know is that I owe much of my success to a conversation with a peach farmer. Without my small community, I would not have met the president or learned to design solutions that matter. So, while a small town can be limiting in some ways, it had hidden opportunities that were up to me to find.
What I hope you take away from these stories is that you are the sole proprietor of your intellectual and personal growth. If you want to be a politician but your school doesn't provide avenues for political activism, then you may have to cultivate your own intellectual curiosity by making the most of the tools available to you. I won't pretend that it's easy, especially when you are growing up in an area of poverty where many students don't have the same resources and aspirations, but my non-traditional path has given me a different perspective and encouraged me to be more well-rounded and adaptable.
Getting Comfortable Being Uncomfortable
That being said, when you need more tools than the ones available to you, sometimes it's time to cast your net wider. In my junior year, I felt burnt out and frustrated from a lack of challenges in my extracurriculars. I had already explored many options, including varsity sports, environmental education, dual enrollment, and class leadership. Rather than conceding to the idea that I was going to be limited by my immediate environment, I sought out new challenges. From a chance encounter at a USC football game where I spoke with someone about our mutual interest in research, I ended up uprooting my life in my small town and moving to Los Angeles for a summer. That someone later became my mentor for my research at USC Norris Cancer Center in LA. Going into the first day of clinic, I was terrified. I was 17 years old, working with a team of doctors and scientists with more degrees then I could fathom. However, after meeting my first patient in clinic, a mother of two battling three different types of cancer, I knew I had found my calling. Later in the day, laughing with genetics counselors over a meal of delicious (read: barely edible) cafeteria food, I felt like I belonged to something bigger than myself. This sense of belonging is what kept me together through weeks of trying to meet new people in a foreign city, getting lost going to the grocery store, and forgetting that in the city you can't just walk up to someone and strike up a conversation.
In the college application process, my experiences demonstrated my openness and commitment to new experiences. In addition, the close relationships I made with mentors at USC Norris sustained me throughout the grueling hours writing extensive essays about myself, a topic I thought would be easy but actually deeply challenged my self-understanding and awareness. My mentors not only reminded me of my reasons for continuing on, they provided valuable letters of recommendation and words of wisdom for my application process.
While my path involved moving to do research, it does not mean it's a necessary step in your path. Focus on developing awareness of what you are passion about and delve into experiences that foster that growth.
Secret Sauce to Success
In terms of extracurriculars and paths to success, here are a few pieces of advice from me experience:
Do things for the experience, not for the name recognition on college applications. Being a varsity swimmer and water polo player is not what got me into college, but it was something I enjoyed with my friends. Likewise, being a leader for the Future Farmers of America organization probably did not garner much recognition from the elite universities I applied to, but my experiences within the organization, where I developed my servant leadership style, did allow for my success.
It's not what you do; it's how you do it. Every meal on the menu of your high school experiences is valuable, and every item has merit. When it comes time to write about these experiences, push off any biases you might have about what admissions counselors want to hear about. If your activities are less well known, chances are that admissions counselors will have a very minimal knowledge on the activity. However, most admissions officers enjoy students who pursue things with fervor and passion. Don't spend your 500 words giving a list of what you've done with minimal description. Instead, dive deep into what motivated you and what you learned in your experiences. Identify common threads that transcend knowledge barriers, and work from there. For example, I was very passionate about career technical education pathways because many students in my area don't choose to attend college. In my essays, I spoke about my experiences advocating for career tech when our governor threatened to cut them. Maybe the admissions officer did not understand what I meant by the words "pest control pathway" or "irrigation specialist." However, I connected my advocacy work to my passion for the sciences, and this provided for a more well-rounded application.
Diversify your experiences, and you will diversify your knowledge. By this, I mean that you should challenge yourself to do extracurriculars that have different communities of interested people. For example, the kinds of people in my career technical education classes were very different from those in my AP coursework, but this allowed me to become open to divergent perspectives.
Challenge yourself to extend the limits of your comfort zone. If you never push yourself, you are never going to learn the art of moving on after failure. It's very easy to get caught up in the application process and use acceptances as a form of cruel self-validation. Who got in, who didn't? Am I less of a person for getting in or for getting denied? These questions feed a vicious cycle of self-doubt and poor rationalization. However, if you go into the application process cognizant of your comfort zone and well versed in the small failures of life, you will be a happier person overall.
Don't overdo it; make time for fun! It's important to remember that every person has a different capacity for balancing extracurriculars, school, and fun. By doing things you are passionate about and learning to relax every once in a while, you will be a more holistic applicant and a more well-rounded (and well rested) person. Personally, I have cherished my experiences doing sports, extracurriculars, and leadership, but I'm human. As a real human, I also enjoy hiking, skiing, wakeboarding, and lazy days at the lake with my friends. Sure, I could have used the time I spent hiking doing research or picking up yet another extracurricular, but I chose not to. I did so because hiking, while not as impressive as research, is important to me. In my college and scholarship interviews, I was always very frank about the fact that, at my core, I am a teenager who is still figuring herself out and needs a balance between work and fun. I joked with my interviewers about my "weekend warrior" mentality and my ambitious outdoor plans that sometimes make my friends crazy. At least in my experience, college admission officers appreciate my candor about who I am.
I really hope these tips and advice were helpful, and that they provided some clarity for you as an applicant. I know that if I would have known about this site as an applicant, I would have appreciated it immensely. Good luck on all of your future endeavors, and remember, if you don't have the tools within your community, you can always learn to make your own. All of our routes to success are going to be lined with unique experiences and stepping stones, and that unique element is both exciting and startling in its vitality. As you look around you, think about what your Drosophila suzukii is, and ask yourself: have you challenged yourself to the breaking point? Do you do things that you are passionate about? Are you having fun? These are questions to consider as you begin climbing the mountain of your own unconventional path. Happy hiking!